Sanctity of Life Campaign
iRapture.com Digital Awareness Package
AWARENESS Digital Package
Sanctity of Life Day is around the corner, and you want to ensure your #SanctityofLife awareness campaign is tip-top. But where do you start? Look no further!
Our easy-to-use content package is perfect for Pregnancy Resource Centers. We'll show you how to create a successful Sanctity of Life awareness campaign that will excite your donors to join this movement.
We've crafted the perfect message to use on your social media, email, and website to reach more people.
Hint: This year's an Extra-Special Sanctity of Human Life Sunday. Celebrate Sanctity of Life on the 50-Year Anniversary of Roe!
We've got everything you need to make this year's Sanctity of Life Day your most successful yet.
So, are you ready to see what is included in your #SanctityofLife Awareness Package?
STARTER PACKAGE INCLUDED ITEMS
Website Article
You'll get access to use our optimized Sanctity of Life article! We wrote this article with SEO in mind. We've tastefully packed all of the right keywords that you'll need to get found by your donors organically on Google Search.
Website Landing Page
This package includes a beautiful landing page template to display our SEO article on your website. Our designers created this HTML template to maximize engagement and wow your audience. We added clear calls to action throughout the entire page so that you can present the opportunity for your donors to give, share and volunteer.
(Why HTML? It's compatible with any web platform, not just WordPress!)
Social Media Graphics
This bundle includes multiple branded social media graphics (with captions) that can be used on various platforms. We even threw in a 5-day countdown series leading up to Sanctity of Life Day, and an animated reel.
1 Email Template
This Sanctity of Life newsletter template is geared toward your donors, and comes as a PDF.
Copy your email into most major email marketing platforms such as MailChimp, Constant Contact, and more. Don't forget to link to your #SanctityofLife landing page, your donation page, and your social media accounts. Best of all, our templates are designed to match your entire campaign! No more mismatched marketing assets.
Campaign Playbook
With all of the goodies we've included in this campaign package, it might seem impossible to manage this campaign effectively. Don't worry; we've got you covered! Our easy-to-follow playbook document will help you launch this campaign quickly and successfully. We've included
posting schedules,

hashtag strategies,

content guides,

and so much more!
So what are you waiting for?
Let's get started!
Fill out the form below to get started. Once we have received your request,
your Account Manager will reach out to you to go over the details with you.
Offer ends Jan 17, to leave time for the 5-day countdown.
That's just the Starter Package!
We also have a CHURCH ADD-ON with 5 more goodies!
1) An email template for PRCs to send to churches asking them to participate in Sanctity of Life Sunday by sharing the following assets:
2) A short video (~45 seconds) for the Church to play on Sanctity of Life Sunday.
3) A QR code at the end of the video linking to your Sanctity of Life webpage.
4) A slide image to show on Sunday.
5) A social media post for the Church to share and tag your PRC in.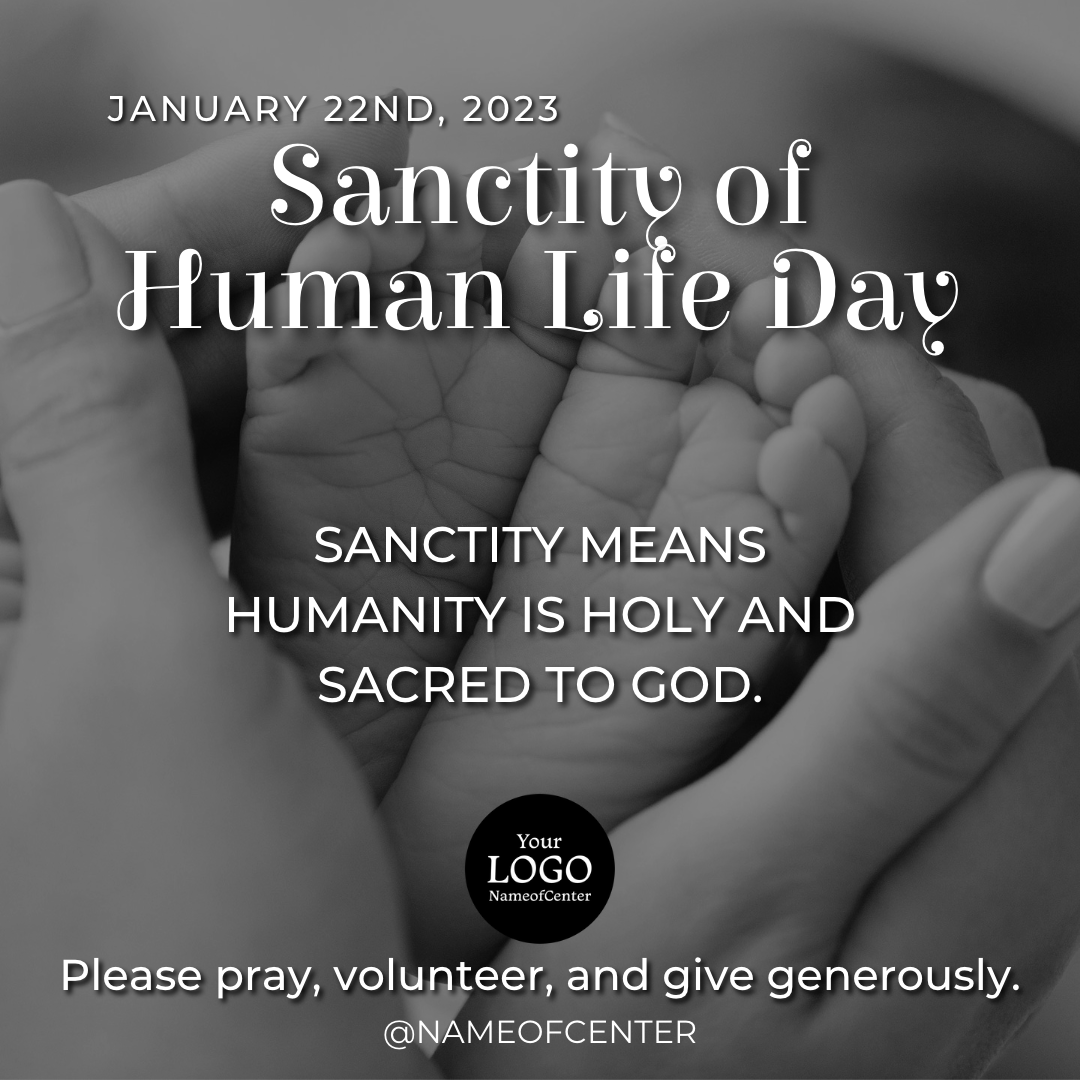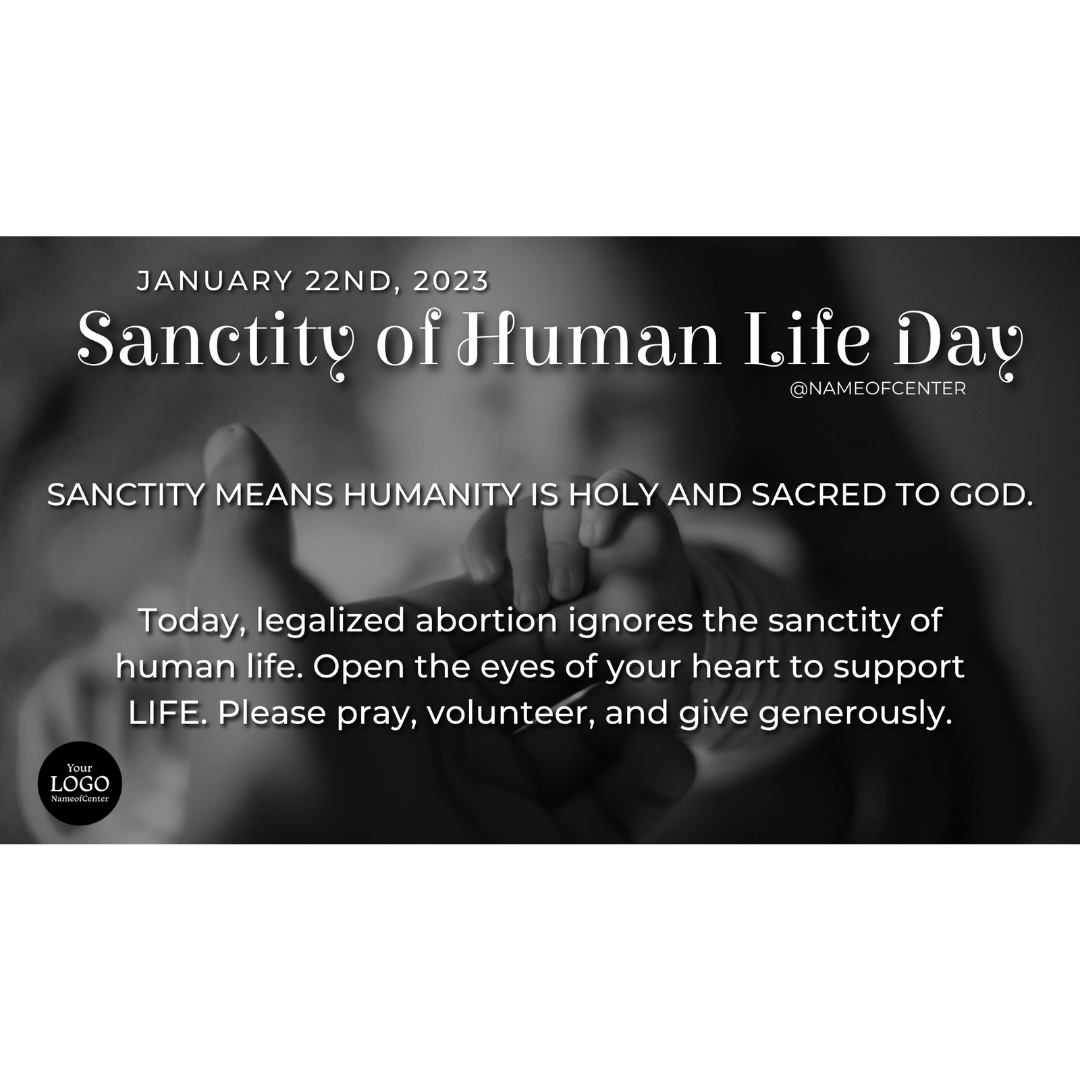 Preview your included content below!
#SanctityofLife Article & HTML Page Template
Make the most of your Sanctity of Life campaign! Our #SanctityofLife article has all of the keywords you need to make an impact with your donors this year! With our help, you can optimize the content on your donor-facing website to reach a wider audience and making the most of this important day. PREVIEW OUR #SANCTITYOFLIFE ARTICLE.
Preview your included content below!
Sanctity of Life Email Template
Use this email template to spread awareness.
This template includes customizable call-to-action buttons so you can link your donors to your giving pages!
(5 countdown stories, 1 animated reel, and

1 main post

)
We'll brand your posts and add your social media handles to make sharing all the more effective!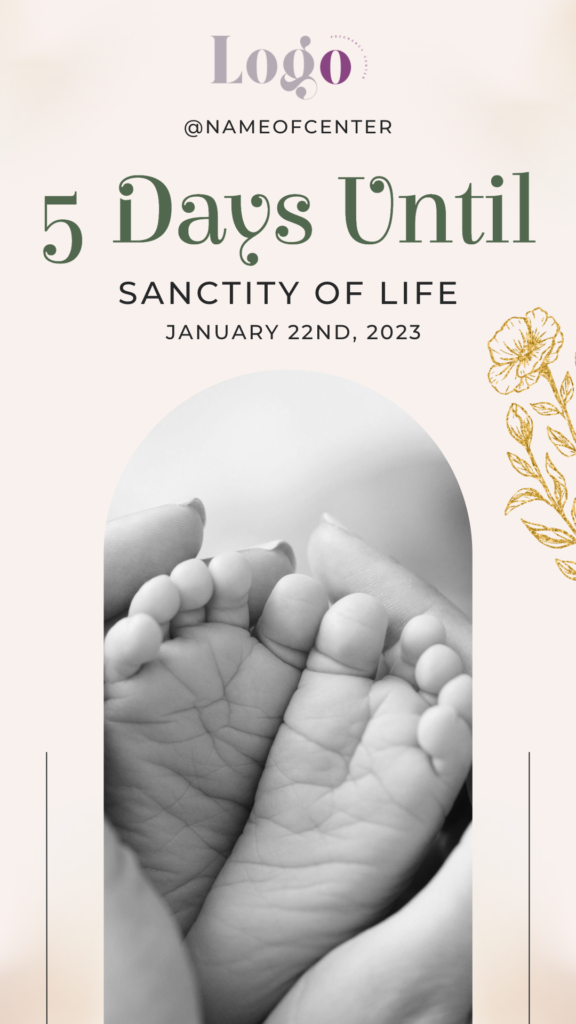 Countdown Stories
Starting Tuesday, January 17, use these 5 stories graphics to drive engagement via Instagram and Facebook Stories. You'll get a five-day countdown social media campaign to help drive more awareness to your audience in the days leading up to #SanctityofLife!

Animated Reel
Wait, there's more! We threw in some VIDEO ANIMATION WITH MUSIC!
Video content drives more engagement on social media, so we included a cool animated post for you to use the Friday before Sanctity of Life Day!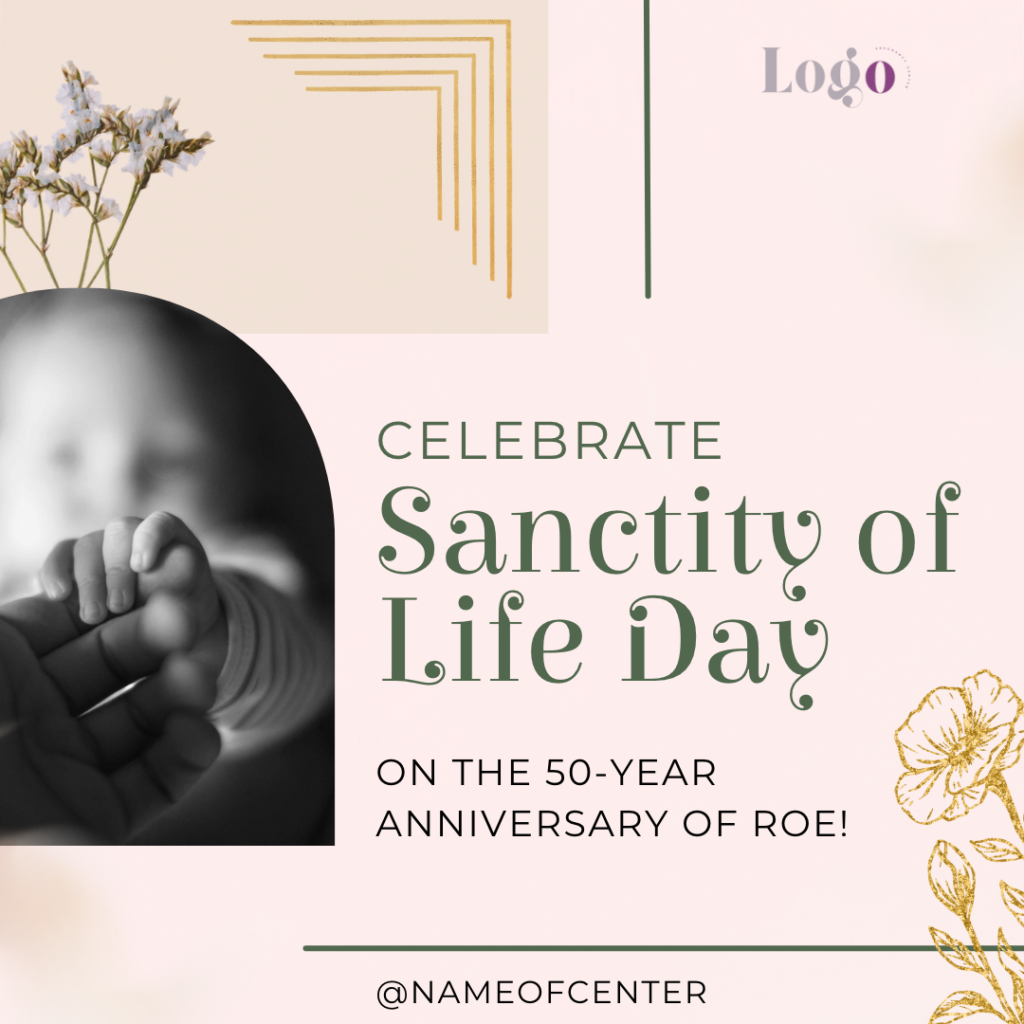 Social Media Post
On Sunday, engage with your audience across your social media channels with style and ease.
Everything you need to know
All in one place. Our PDF holds both email templates, and social captions plus:
posting schedules,

hashtag strategies,

content guides,


and so much more!
Make the most of your Sanctity of Life campaign!
ARE YOU READY TO MAKE THIS THE BEST SANCTITY OF LIFE DAY EVER?
Let's get started!
Fill out the form below to get started. Once we have received your request, your Account Manager will reach out to you to go over the details with you.
Offer ends Jan 17, to leave time for the 5-day countdown.
What do I get?
Mix and match: the Starter Package, Church Add-on, and Scheduling Add-on.
The Starter Package gets you:
7 branded social media assets including an engaging animation (as email links to digital image pngs with your center's name and logo. The links are good for 7 days.)

A landing page with an informative article on Sanctity of Life

An email playbook PDF for reaching your audience.
The Church Add-on
Another email to churches

Digital assets for the church to use, including video with QR code, slides, and social media

Save 50% when you combine with the Starter Package!
The Scheduling Add-on
Want us to schedule your post while we're at it?

(Scheduling is available to Facebook and linked Instagram only.)

iRapture.com can schedule your Starter Package images and video if you give us the password/admin access to your account.

⚠️ iRapture.com will never ask for your passwords by text or email. We will call you to get your passwords/admin access. We'll charge you an hourly rate for our time videocalling, emailing and scheduling. (Typically less than 15 minutes.)


How does it work?
You fill out a form with all the details, including name, and optional logo. (Your logo must be a PNG file with a transparent background to look professional.)

Your request goes into our software, where your social images are created.

We'll email you a link to your playbook PDF and png images so you can schedule them. The links are good for 7 days. Look for an email from orders_[at]_iRapture.com

For your video, we'll send you a link to download.

(Scheduling Add-on: We'll still email you your package links when we're scheduling your images. That way you can share your images on other social platforms. We support scheduling to Facebook and linked Instagram accounts.)
How much does it cost?
At iRapture.com, we pride ourselves on keeping costs low for Pregnancy Resource Centers.
VP clients will pay VP rates. The Starter Package is 2 VP hours, and the Church Add-on would be another 2, but if you get both, we slash the Church Add-on in half, so your total is 3 hours.

For non-clients, the Starter Package is a surprisingly affordable $500, and again we offer a 50% discount on the Church Add-on when combined with the Starter Package.

If you chose the Scheduling Add-on, scheduling services are billed at your hourly rate. (VP Clients already know their hourly rate. Non-Clients pay $250/hour.)
How long will it take to get my order?
Please allow 1-2 business days to fulfill your order. (Business days are M-F from 8-5 MST.)
I'm new here, and I've never been an iRapture.com client, can I get the DIY package?
Yes, you can get the branded Sanctity of Life Awareness digital package. We're thrilled you want to promote life!
Why are you asking for my email? Are you going to send me marketing emails?
We need your email to send you your digital Sanctity of Life Bundle. (First, you'll get a confirmation email after filling out the form. Then you'll get your link to your branded image png. Look for an email from

orders [at] iRapture.com

) Plus, we need a way to contact you just in case there's a hiccup with your bundle.

We'd love to share more exciting

life-affirming

projects with you if you opt-in! But, it's totally up to you. We'll ask for your permission when you fill out our form.